DESIGN
Creating a crisp, clean interface for Jaunty Goat
Our design team were really keen to roll their sleeves up and get stuck into this one, as it was right up their street. The existing Jaunty branding and physical premises were a massive inspiration – Jaunty's photography was top-notch, showing off the coffee shop interiors and sumptuous dishes available.
The team decided to "let the images do the talking", by producing a clean and simple interface, sticking to a black and white colour palette. Overall, they really drew on the stylish, Scandi-cool theme of Jaunty Goat and reflected this in the finished designs.
Need to know opening hours or what's on the menu? It's covered
As well as making the website a stand-out in terms of cutting-edge style and minimal design, we wanted it to be truly functional for the user. Any local coffee shop needs to show a few basic things on their website: opening times, location, contact details and that all-important menu. We ensured that these features took centre-stage, as well as some nice extras like a journal, an integrated Instagram feed and of course, the online shop area.VISIT WEBSITE
BOOK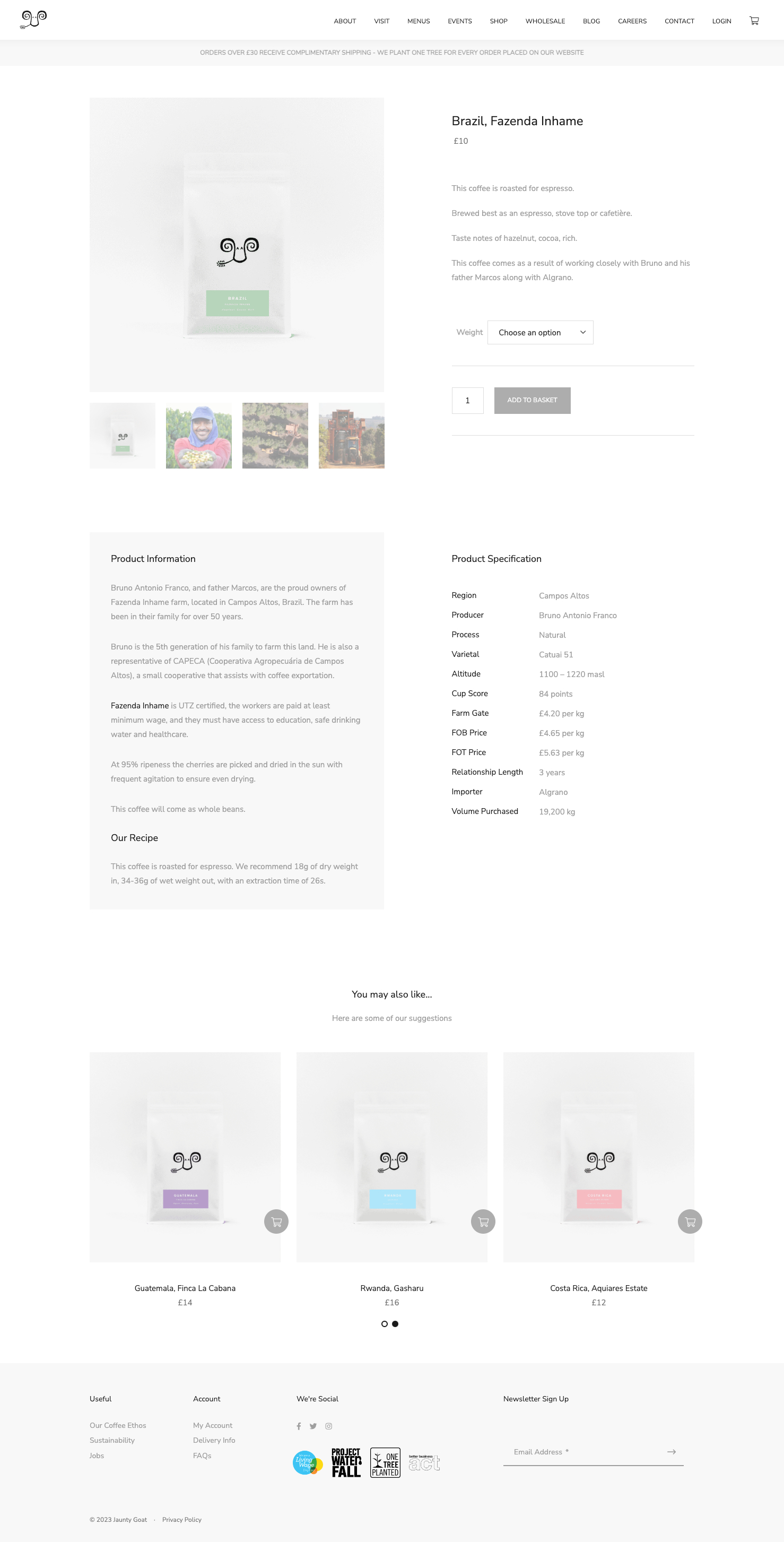 Buy Jaunty Products
As we said, the online shop area is a great addition to the Jaunty Goat website – it's not something you see often from a local coffee business and so we couldn't wait to make it a reality.
Using the WooCommerce plugin on WordPress, we cleverly constructed an easy-to-use shopping area, with that same gorgeous imagery and clean interface we'd become familiar with.
From coffee grinders to filter papers, you can create a coffee shop experience from the comfort of your own home! There's also the option to sign up as a wholesale partner if you're a local business who'd like to stock Jaunty coffee.
WHOLESALE
Keep track of your orders
When it comes to any online store, whether it be a fully-fledged ecommerce site or a cosy corner of a brochure site, it's important to make the entire process as smooth as possible for users.
That's why we included a dashboard area for shoppers to log in, track their orders and store their addresses and payment methods. If you want visitors to buy your products, it has to be easy!VISIT WEBSITEMOBILE
Making things easier for mobile
We all know how crucial it is for your site to be optimised for mobile. And we're sure you don't need to be told but we made the new Jaunty site fully responsive.
This is so users could access the same information on any device and still be met with the same strong design and usability, whether they were using their laptop on their train or the phone walking along the street (just watch out for lamp posts).
You might also like